Jim Brown, Lacrosse: The Greatest Player To Ever Live
When asked about who the greatest lacrosse player of all time might be, you would likely think of names like Powell, Gait, Grant, Grant Jr., Tavares, Rabil, or some other very notable names in lacrosse history. In many ways, a player that predated each of the names listed here by decades was the most dominant lacrosse player in history. His name is James Nathaniel Brown, the Syracuse lacrosse legend of the 1950s. Most people might recognize Jim Brown as the Pro Football Hall of Fame running back for the Cleveland Browns. But before his career in the National Football League, Jim Brown excelled at lacrosse in high school and at Syracuse University. In this article will discuss Brown's legendary lacrosse career, highlights, achievements, and legacy.
Did Jim Brown Play Lacrosse?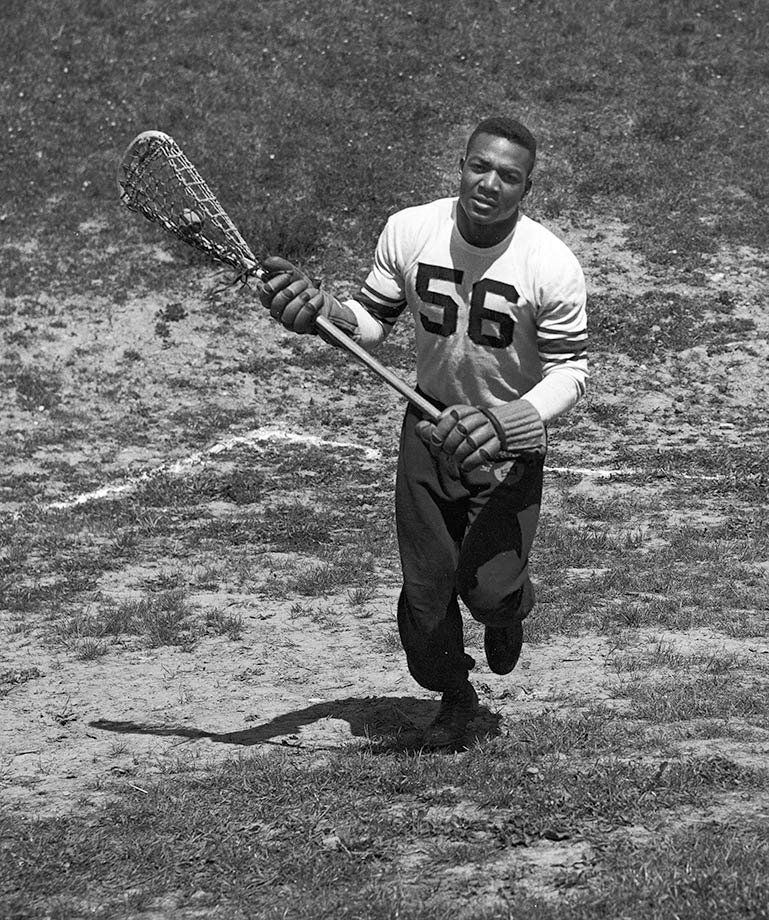 Yes, Jim Brown was a three-time all star at Manhasset high school and two-time All-American in college at Syracuse University. While he ultimately played professional football, he has been on record saying lacrosse was his favorite sport and likely would have played lacrosse professionally had that been an option in the 1950s and 60s.
Jim Brown Lacrosse Career
Jim Brown Manhasset High School Lacrosse
Brown played varsity football, basketball, lacrosse, baseball, and track and was a three-time all star for their lacrosse team as a midfielder. High school stats are difficult to come by for 1950s high school sports but his collegiate college resume speaks for itself.
Jim Brown Syracuse Lacrosse
At Syracuse University, Brown played four sports as a varsity athlete; competing in football, basketball, lacrosse, and track. Here we will only be discussing lacrosse accolades. In his junior year, he scored 30 goals and was selected as a second-team All-American. His senior year, however, he scored 43 goals and 21 assists, was awarded first-team All-American, led the team to an undefeated 10-0 season, and was voted athlete of the year at Syracuse University. Four goals and 6 points per game may not seem that legendary. But, consider that his per game stats (4.3 GPG) are on par with Mac O'Keefe (4.33 GPG), the third highest scoring player in NCAA history, and Brown kept that pace using wooden sticks and no modern equipment or rules like the shot clock.
Anyone who watched college lacrosse in the early 2000s and earlier knows how slow and low-scoring lacrosse games could be. He also famously scored five goals in a single half in the 1957 North-South College All-Star game. Brown was such an incredible athlete that he scored one goal and three assists in an 8-6 win against Army immediately (and I mean that literally) after earning medals in multiple collegiate track and field events. Brown loved lacrosse so much that he sought out box lacrosse games on the Native American's Reservation near Syracuse, as said by Coach Roy Simmons in a NY Times interview.
Jim Brown Lacrosse Rule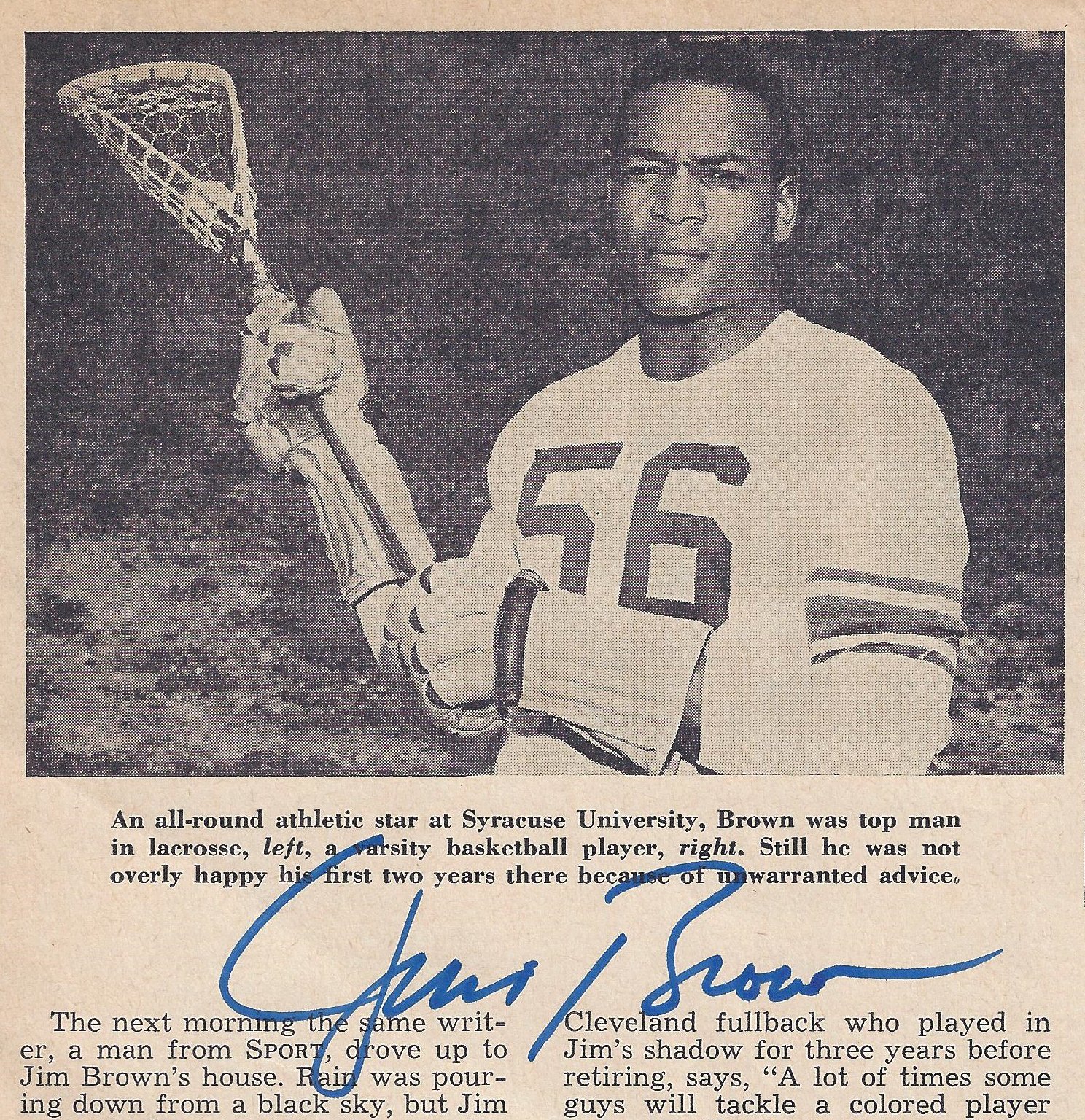 Brown would frequently carry the ball with his stick placed close to his chest, but not too close as "chesting" the ball has always been illegal in lacrosse. This strategy combined with his strength and speed made him a nightmare for defenders. Because of this, they changed the rules such that players were required to keep their sticks in motion when carrying the ball, sometimes called the "Jim Brown" rule. However, it's not really applicable in the modern age of lacrosse.
Jim Brown Lacrosse Video
Videos of Jim Brown playing lacrosse are fairly rare given the time period in which he played the sport. However, there are a view which include most of the same plays which are from the North-Sourth Collegiate All-Star game in 1957. A special aired during the 1991 NCAA championship featuring Brown. A short feature providing a few highlights can also be found on Pat Gregoire's YouTube Channel.
Jim Brown Lacrosse Hall Of Fame
Jim Brown was inducted to the Pro Football Hall of Fame in 1971 and the National Lacrosse Hall of Fame in 1983. He is the only person ever to be inducted to the pro football, college football, and national lacrosse hall of fame. He is also the namesake of the current Premier Lacrosse League (PLL) Most Valuable Player award. Additionally, in 2011, Brown was presented with the first Tewaaraton Legend award which is meant to honor elite players prior to the introduction of the Tewaaraton Award in 2001.
Jim Brown Lacrosse Quote
"Lacrosse is probably the best sport I ever played. There was no publicity. You had to like it." – Jim Brown in the New York Times (1984).
"I'd rather play lacrosse six days a week and football on the seventh." – Jim Brown
"I love speed. And a lot of times you can't use it in certain sports the way you can in lacrosse." – Jim Brown in Sports Illustrated (2016).
"Brown scored one goal underhanded with his right hand, one overhanded with his right, one underhanded with his left, one overhanded with his left. There was nobody like him." – Roy Simmons, Syracuse Lacrosse Coach, NYT
"[Y]ou could be the best [lacrosse] team or the best player in different generations and people respect each other. Nobody cares who was the best." – Jim Brown in the New York Times (1984).